Student Teaching acadEmy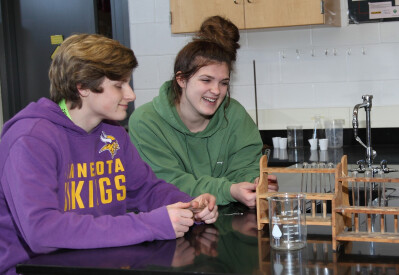 The Student Teaching Academy has been created in unique partnerships with Iowa State University, the University of Northern Iowa, and Wartburg College and aims to recruit and equip highly engaged and motivated student teachers to spend their intern experience at Charles City.

Students that are accepted in this highly competitive and rigorous program will be heavily invested by the Charles City Community Schools. Our goal is to take pre-service teachers with incredible potential and equip them to become some of the most effective educators that have strengths in working with students from culturally diverse backgrounds.

Some of the benefits for participants in this program:
Mentor learning
Placement and partnership with mentoring teachers who are highly effective and have vast experience in successful outcomes for students;
Our mentoring teachers have diverse experience as well as on-going rigorous training on how to best work with pre-service teachers
Utilization of strengths and value-based assessments to best match student teachers and mentors;

All student teachers will receive additional training bi-weekly during their placements to equip them with relevant and rigorous practical experiences

Participants will receive total wrap-around mentoring and support that includes their mentoring teacher, host teachers, instructional coaches, and administrators
Reciprocal learning
Our program is inductive and reciprocal; we expect participants to share and implement innovative and cutting edge practices to improve the outcomes of the current Charles City staff;

we know that great pre-service teachers can make our people become better
Interview experience
Interview experience: all participants will receive training and support on how to be successful in the job interview process
Become the model for student-teacher programs in the state and nation
Social Justice
Participants will receive relevant and rigorous training in the area of cultural competency, diversity, and social justice