Charles City Community Schools Student Face Covering Expectations
August 11, 2020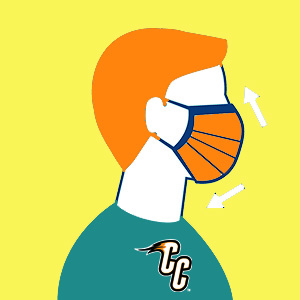 For safety and to keep our schools open, the Charles City School Board has mandated that students are required to wear face coverings any time they are in common areas or aren't able to social distance. This decision was made by a task force of staff, students, parents, and medical professionals.
There will be many opportunities for students to take their face coverings off throughout the day. Generally, the majority of the day, students will not be required to wear face coverings as they will be in their smaller family learning "teams" where they will be properly social distanced.
When face coverings are NOT required
Classrooms when social distanced

Eating

PE, Recess, Outdoors, Athletics Participation (practice, games, conditioning)

If you have a medical or religious waiver (Principals will work with families to schedule alternate passing and restroom times to keep you safe. Please contact your principal to set up any waivers.)
When face coverings ARE required
Hallways

Common bathrooms (This wouldn't apply to private classroom bathrooms such at the preschool and transitional kindergarten)

Office areas

Cafeteria when not eating

Buses

Singing/band Instruments (specialized masks will be provided)

Classrooms when not social distanced (group work, partner work, etc)

Student spectators at indoor sporting events if you aren't social distancing
Important Things to Know
Students can choose their own face coverings. It could be a mask, shield, cloth, or gator. They can personalize as long as the mask isn't vulgar or inappropriate per our dress code.

School will provide up to (two) free cloth face coverings if the family chooses. These would be distributed the first day of school.

If a student is unable to wear a covering due to medical or religious reasons, we will work with the family to accommodate this in a safe way. Please contact your principal.

Teachers won't require any close proximity contact in the classrooms. Students can always choose to social distance at all times. However, if the student were to choose to do close proximity work that isn't social distanced (carpet time, shared reading, games, small groups) they would be expected to put on their face coverings.

Face covering enforcement will all be handled by the campus principals. Staff will not be responsible for enforcement. Staff would report any issues to the principal who will communicate with the student and family.

Mask shaming will not be tolerated by any staff, students, or others at any time.

Students that need a medical or religious exemption need to notify their campus principal immediately through the contacts below. They will contact you to make the necessary arrangements.
Student Face Covering FAQ's
When will my student be required to wear a face covering?

Only during times when they are in indoor public common areas such as hallways, offices, restrooms, buses, and cafeterias (when picking up food. We aren't using the cafeterias for eating), and when not able to social distance in class. Otherwise, when students are in their classrooms and are able to social distance, they will not be required to wear them.

Will my student have to wear their face coverings all day?

No, only during times they are in indoor common areas. In fact, the majority of their time at school, they won't have to wear their face coverings as long as they are social distanced in their classrooms.

How were these recommendations developed?

By a task force of teachers, staff, leadership, students, parents, and health professionals. We worked and received recommendations from Floyd County Public Health, Floyd County Medical Center, and the CDC.

My student has a medical and/or religious reason and can't wear face coverings. What do we do?

Contact your child's principal right away and we'll file an exemption for you. We'll work to accommodate the needs to keep your child safe.

Why are we doing this?

Guidance from health professionals and the CDC highly recommend to keep people safe. When we aren't able to social distance, face coverings are essential to stop the spread of COVID. We feel this is one of our best strategies to keep our family safe and continue to keep schools open.

Will my child be required to wear a face covering during PE or athletics?

No. From our guidance from health professionals, this would not be healthy due to exertion. We'll work to social distance during these times.

I can't afford a face covering. What do I do?

During the first day of school, all students will be given two free cloth face coverings from the school.

What types of face coverings can students wear?

Any cloth face mask, face shield, or gator/cloth covering is good. Students can also personalize their coverings as long as they aren't offensive in line with our dress code policy.

What happens if I forget my face covering?

The school will have a supply of disposables that can be used as well as other cloth coverings for sale for $1 each in our main offices.

Will staff be wearing face coverings?

Yes. Any time that teachers are in contact with students, even socially distanced, staff will be wearing face coverings.

What about band and choir?

Since band and choir have been identified as activities where there is more risk for spread, we are requiring face coverings for these classes and activities. The teachers are making their own specialized coverings that they will distribute out to the students to keep everybody safe.

My child wants to wear their face covering at all times. Is this ok? Y

es. Any student that wants to wear their face coverings will always be allowed to.