PHOTO OF THE WEEK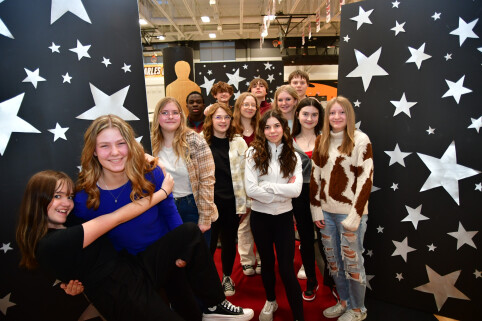 8th grade students at Trivia Night
IMPORTANT DATES TO REMEMBER
March 20 - Classes resume
April 6 - Conferences 11am-7pm - No School
April 7 - Professional learning - No School
UPCOMING SPORT EVENTS

3/26/23 1pm - parent meeting for trapshooting @ Nashua Gun Club
See the activities calendar here for future events.
STUDENT AND PARENT NEWS
CONDITIONS FOR LEARNING SURVEY...Middle School staff will administer an annual school climate and culture survey called Conditions for Learning to students the week of April 4. This survey administration is required by the state's plan to meet a federal law called the Every Student Succeeds Act. All Iowa public school districts will use the Conditions for Learning Survey to improve safety, student engagement, and the overall learning environment so that all Iowa students have optimum conditions for learning. Student participation in the survey is highly encouraged, but is voluntary and will take approximately 20 minutes to complete. Please see the link for additional information regarding the survey.
BAND SOLO FESTIVAL...The 5-8th grade band solo festival will be Thursday, March 30 at the Middle School. Please mark your calendar.
SPRING TRACK...7th/8th girls track has begun. 7th/8th boys track will start on March 22.
NURSING DEPARTMENT NEWS
LIONS CLUB...Nurse Jessica and Nurse Bethany presented to the Lions Club of Charles City on March 10 about the vision screening and referral services our nurses and health associate provide. The nurses talked about the vision referral rates for preschool through 8th grade and what we do to help our families in need get their children eye exams and glasses. A story was shared about an elementary student who only knew 8/26 of their letters and sounds at the beginning of the school year, but after getting glasses, they now know all of their letters and sounds! Thank you to the Charles City Lions Club for helping with our vision screenings and families in need of assistance.
COMMUNITY INFO
7TH AND 8TH GRADE U15 SOCCER... There will be a parent/athlete/coach meeting on March 20th from 6:00-6:30 in the Middle School! Contact hfranse@charles-city.k12.ia.us to sign up!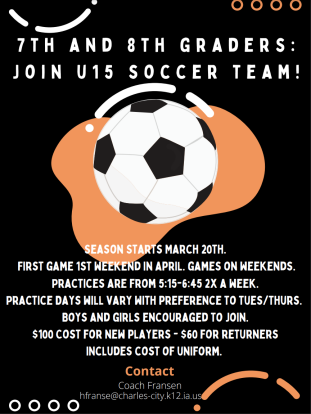 CITY LEAGUE BASEBALL...Charles City Youth Baseball Registration for the 2023 season is now open!!! We want to get a jump start on registration this season in order to build a better practice and game schedule. Click on the link below to register
. Deadline to register is Sunday, March 26th.
City League Baseball Registration
GIRLS LITTLE LEAGUE... Registration for Charles City Little League Softball for girls in 5th-7th grade is open now until April 3rd. Register at https://ccsoftball.square.site/ or via paper form obtained from homeroom teacher and turned into the Middle School office. Email questions to
NIACC BABYSITTING COURSE... Please see the document here regarding an upcoming babysitting course on Saturday, April 22