PHOTO OF THE WEEK


. .
BALLOON CHALLENGE WINNER = MRS. VAN SOELEN'S HOMEROOM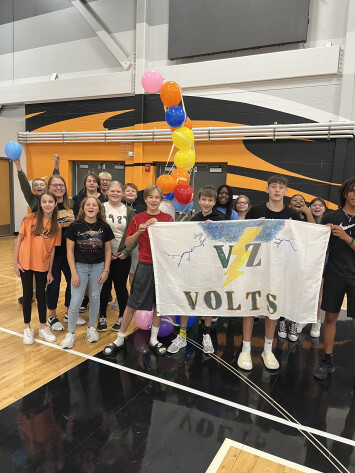 DAILY SCHEDULE
Doors open 7:40am
Breakfast served 7:40am-7:55am
School day starts 8:05am
School day ends 3:00pm
UPCOMING IMPORTANT DATES
MS Picture Retake Day is October 24th
MS Conferences will be on October 24th and 26th 3:30 pm - 7:30 pm, details for scheduling will follow soon.
No School on October 27th and 30th (Teacher Work Day)
ATHLETIC EVENTS
See the district activity calendar here for upcoming events
STUDENT AND PARENT NEWS
Parents, Please Be Aware...
Please call by 2:15 p.m. for a change of student pick-up.
NOTE FROM THE NURSE...Please take a moment and read this Classroom Peanut and Tree Nut Allergy Notification
ATTENDANCE NEWS...Any parents of a student in the Middle School, Lincoln, or Washington, should report absences to the dedicated attendance lines here: Middle School - 257-6531; Lincoln - 257-6561; Washington - 257-6571, or families can also email Donna Lynch at dlynch@charles-city.k12.ia.us
BASKETBALL OPEN GYM... From now until the start of the season (Monday, November 6th), Coach Rottinghaus and Mr. Coach Anderson will be hosting open gyms in the Middle School gym from 6 pm-7:30 pm on Sunday evenings for girls in 7th - 12th grades. We would love to have you. You do not need to have basketball skills to start somewhere! Spread the word! Go Comets!
BUS INFO... Starting September 11, if a student does not have a bus pass after school, the student will be asked to go to the office to call for a ride home. The bus will pick students up in the mornings without a pass at this time. If your student needs a pass, email the transportation department at , call 641-257-6590, or let the school offices know. Please note that requests may not be processed on the same day, including on September 11.
COMMUNITY EVENTS
BABYSITTING COURSE... See the flyer here for information about a community babysitting course through NIACC.
FLOYD COUNTY MUSEUM... See the flyer here for information from the Floyd County Museum.