*Professional Learning Day – Fri, September 25th – NO SCHOOL*

SCHEDULE FOR THIS WEEK
If you know your student is going to be absent or late, please notify the office at 641-257-6530 by 9:30 am.

Monday, September 21- Orange Day
Tuesday, September 22 - Comet Day
Wednesday, September 23 - Comet Day
Thursday, September 24 - Orange Day
Friday, September 25 - No School - Professional Learning


QUARTER 1A AND 1B
We are coming up on 4 weeks of school which means we will be switching classes and the time in your current core classes will be done for the 1st quarter. The official last day of Quarter 1A is on September 24th. Schedules will change for all 5th-8th grade students on September 28th. Please refer back to the Principal Get to Know You Video. (Schedule breakdown runs 3:00 to 5:15).

This means if you are currently taking math you won't have math from September 28th to October 23rd. Teachers will be finalizing grades for your Quarter 1A by October 2nd so be sure to check with them to see if you have any missing/incomplete assignments. We will be sending out report cards at the end of the 1st Quarter. You should expect to see something in the mail around October 30th. If you have questions or need clarity on anything above please reach out to .

5th and 6th grade specials(Art, PE, FCS, 21st Century Skills, Guidance, Comm Service/Leadership) run on different dates and will finish on October 6th.
MAP TESTING

We will start our MAP testing this week for all 5th - 8th grade students at the MS. The testing window will be from September 21 to October 9th. School to You(STY) students will start in Mid-October.

The link below provides more in depth detail about what MAP has to offer the team of people teaching your students. Family Tool-Kit for MAP
Here are a couple quick points:
MAP stands for Measuring Academic Progress - We focus on growth and moving students toward a goal of improvement.


Results of the tests will be sent home and discussed at conferences in the coming months.

Subjects - Math, Reading, Language Arts, and Science will be tested.

The tests last around 45-60 minutes depending on the student.

Students won't test more than 2 times a day and most times only once.

MS students will take the MAP growth assessments 3 times this year. (Fall, Winter, and Spring)

MAP Video

we shared with students this week.
STUDENT SUCCESS AT SCHOOL AND HOME EVENT
On September 24 at 6:00 PM, a free event will be held on the Charles City Community School District Facebook page featuring a Live Q & A focused on building student academic and social emotional skills. The guest presenter will be answering questions from parents and families and providing skills and strategies to use with students of all ages. If you would like to submit a question for the presenter to answer, please email the School to You team at or text the team cell number at 641-257-9064. To learn more about this event, please view the flier here: Event Flier
FREE LUNCH
Charles City Community Schools has received notification from the USDA to extend the Summer Food Service Program until December 31, 2020 or until the available federal funding runs out. This means breakfast and lunch for all students will be covered by the extension of the Summer Food Service Program.
If your student attends classes ON campus and wishes to take a breakfast/lunch home with them to eat on the days they are working at home, please fill out this google form : Take Home Meals. This form will need to be filled out for each student wishing to take meals home. The student will receive a meal until the program is over.
NORTH GRAND RESOURCES FOR HYBRID LEARNERS
Purpose: To inform Middle School students and families about additional resources available for students during at home learning days.
What: North Grand building will be staffed with an instructional interventionist from 12:30 - 3:00 during school days for middle school students who need additional learning time and structure. This is intended to provide support for students in the hybrid classroom. If a student is directed by their teacher to attend NG on their remote days, it is now part of their attendance.
How do I qualify for this service: Middle school teachers will be notifying students and families if they identify a need for additional time and structure on remote learning days. Students who are not meeting expectations or who are not showing proficiency on taught standards may be required to attend the NG building as part of their daily attendance.
How long will my student be attending NG: This service is not intended to be a long term fix, it is intended to help students get organized, keep routine, and set structure so that they can be successful. Once a student clearly demonstrates proficiency with time management, study skills, and problem solving we will release them back to independent time on their remote days.
Can I send my student without notification: At this time CCMS staff will be inviting students to attend the NG building on remote days. We ask parents to communicate with building administration if they feel that their child needs to be attending the NG building during hybrid learning days. Please email Joe Taylor or Tom Harskamp with your questions and concerns.
NEWS FROM OUR 8TH GRADE
There are several missing assignments among our Comet and Orange students, so please check Google Classroom and email teachers if you have questions. Communication is key. No student or student family should hesitate to contact 8th grade teachers if there is a problem or question. We will do our best to respond in a timely manner. PowerSchool will be showing missing work and grades very soon; we have to work out a few kinks first, stay tuned!
Please make sure Chromebooks are being charged each night, because we do have some Chromebooks coming to school dead or almost dead in the morning.
NEWS FROM MR. COLE - COUNSELING OFFICE
National Bullying Prevention
Staff, Students, and Parents,
The first Monday of every October is World Day of Bullying Prevention. On this day, students, schools, and communities all over the world go BLUE together against bullying. It also kicks off National Bullying Prevention Awareness Month every October. Join us in solidarity to Stop Bullying and Cyberbullying! Make it the day that bullying prevention is heard around the world! Order your STOMP Out Bullying "Limited Edition" Blue Shirt today.
On October 5th, #Blueup, schools, and communities all around the world will wear Blue. Let's join them Charles City, order your Blue T-Shirt Today by clicking the link below and follow the instructions to order.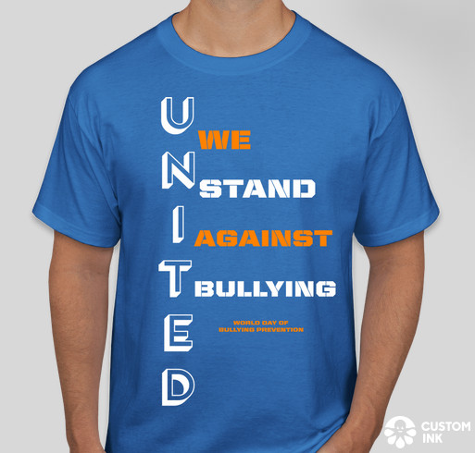 Middle School will also wear the Blue T-Shirts on October 6th.
TO PLACE YOUR ORDER, CLICK THE LINK!
https://www.customink.com/g/evr0-00cb-aq2h
FAMILY HEALTH CHECKS - STAY HOME IF YOU ARE SICK
Keeping schools open during COVID-19 will require everyone's cooperation. It is critically important that students and staff who aren't feeling well stay home. Family members showing the following symptoms should stay home:
Fever (100.4ºF or higher) or chills
New cough
Shortness of breath or difficulty breathing
Fatigue
Muscle or body aches
Headache
New loss of taste or smell
Sore throat
Congestion or runny nose
Nausea or vomiting
Diarrhea
IMPORTANT: If you show any of these symptoms or if you don't feel well, please stay home.
COVID - CONTRACT TRACING
Floyd County Public Health takes the lead on contact tracing positive COVID-19 cases with the support and cooperation of Charles City Community Schools. Our trained staff, along with public health, will actively communicate with an individual who tested positive to determine with whom they have been in close contact, defined as within 6 feet for more than 15 minutes. Our staff also provides seating charts for classrooms and busses to identify anyone in close contact with the individual reporting a positive case. Public health will then make the initial phone call to interview all of the close contacts.

If our school family contacts you with questions or to help your family with resources during a quarantine, we are not legally able to name the positive contact.

We pledge to be as transparent as possible within our legal ability.
DASHBOARD
Charles City Community Schools launched a COVID-19 dashboard with current and accurate information available to students, teachers, and families. The dashboard contains information on the number of individuals who are requested by Floyd County Public Health to quarantine and who have officially tested positive for COVID-19.
The dashboard is part of a broader COVID area on the website, detailing information for the school family to research. The dashboard is updated regularly with data from Floyd County Public Health and the Iowa Coronavirus website.
The dashboard can be found under the "Everything COVID" area of the website, which includes all COVID related notifications, Q&A's, and the data and charts in the dashboard. The website also allows students, staff, and parents to communicate with the school through a designated email address for COVID related matters. Anyone with comments or questions can email
Dashboard Link: https://www.charlescityschools.org/covid-dashboard/
Everything COVID: http://charlescityschools.org/everything-covid
FACE COVERINGS
We have branded face coverings for our students to wear in the school. Each student will be provided with one to start the year. Another mask will be provided when our next shipment comes in. We also have disposable face masks available. Students can also choose their own face coverings. It could be a mask, shield, cloth, or gator. They can personalize as long as the mask isn't vulgar or inappropriate per our dress code. Here's Charles City Community Schools face covering expectations.
ON-CAMPUS LEARNING SCHEDULE
7:45-8:50am - Optional Comet Time - Please report to your grade level gather space for directions (Breakfast is from 8:15 am - 8:45 am)
8:50-10:21am - Block 1 of Learning
10:21-12:13pm - 5th/6th Specials / Lunch / Homeroom / MTSS (Multi-Tiered System of Supports)
12:13-1:44pm - Block 2 of Learning
1:44-3:15pm - Block 3 of Learning
BLENDED LEARNING SCHEDULE
5th grade students • Every day Monday - Friday
6th - 8th grade students are assigned to either an Orange Team OR Comet Team
6th - 8th grade students will have on-campus learning on alternating days.
Orange Team - Monday/Thursday
Comet Team - Tuesday/Friday
Alternating Wednesdays
Please download this calendar (This calendar is accurate and we apologize for any inconvenience from previous communication about what our Wednesday schedule revealed)
We also have a section on the front page of our website with the daily schedule.