THE WEEKLY LINC
MARCH 19, 2023
MESSAGES - Please call the office of any dismissal changes or absences. Teachers don't always have time to check their personal phones, emails, or Class DoJo.
CONGRATULATIONS TO OUR STUDENT OF THE WEEK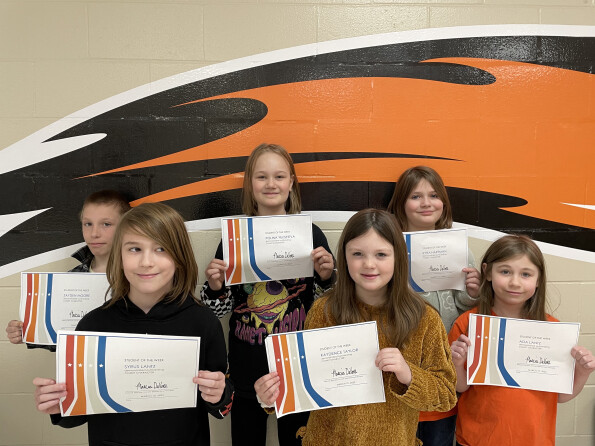 Kyra, Syrus, Kaydence, Ada, Zayden, Emily & Polina. Thanks for being great leaders at Lincoln School.
SCHOLASTIC BOOK FAIR
Mark your calendars! Lincoln Elementary will be hosting a book fair the week of April 3rd through the 6th. Students will have the opportunity to shop during their library time that week and the fair will also be open to the public during conferences on Thursday, April 6th.
Interested in volunteering? Click here to sign up!
To view more important information about our book fair, click on this link.
If you have any questions, please contact Mrs. Elliott at .
Conditions for Learning Survey Information
Lincoln Elementary staff will administer an annual school climate and culture survey called Conditions for Learning to students on Tuesday, April 4. This survey administration is required by the state's plan to meet a federal law called the Every Student Succeeds Act. All Iowa public school districts will use the Conditions for Learning Survey to improve safety, student engagement, and the overall learning environment so that all Iowa students have optimum conditions for learning. Student participation in the survey is highly encouraged, but is voluntary and will take approximately 20 minutes to complete. Please see the link for additional information regarding the survey.
3RD GRADE
Welcome back from spring break! 4th quarter is here and we are excited to finish the year strong. In math, we are still talking about fractions with a focus on identifying them on a number line. Our immigration unit is still going strong in social studies as well as writing as we start researching other countries and writing our own diaries about our journey to America. Studying characters is our focus in reading.
In Leader in Me lessons this week, our class will be talking about the importance of not prejudging others. At the end of the week, make sure to ask your child, "What might you miss if you prejudge others?".
ISASP tests will be here before we know it so please help your child prepare by practicing skills from their IXL skill plans. If you are having any trouble accessing your IXL skill plan at home, please click on this link to view how to find your child's skill plan.
4TH GRADE
Welcome back from spring break and hello 4th quarter. Lots will be happening in our classrooms this week as we push forward with units we were working on before spring break. Book clubs continue in most classrooms and students continue to improve their persuasive skills in writing class. We are investigating fractions and decimals in math, working towards being able to add and subtract fractions as well as compare and put them in order. Remember that your student can always be improving their skills at home on IXL, the computer-based learning program we use. Each student has a skill plan in place which takes the student to standards that they need to work. Please reach out to your student's homeroom teacher if you need help getting logged in at home.
LIBRARY
3rd and 4th-grade students have been working with PearDeck, an interactive slide show on which they can answer questions about the lesson and respond at their own pace.
Three of our classes met before spring break. Another will listen to the stories after spring break. Fourth-grade classes will work with teacher-provided resources to respond to questions for Casey at the Bat. Third grade will complete the Pear Deck Activity for "The Obstinate Pen."
We will end the week by completing listening and following instructions activities using origami or listen and draw.
Music:
The 3rd and 4th-grade students are giving a concert! The concert will be on Tuesday, April 4th at 7 pm and will be in the middle school gym. Please have your student arrive at the middle school at 6:40 pm so they can find their class's seats on the bleachers and prepare to be on stage. The concert will feature 6 total songs, some of which will feature students as instrumentalists, soloists, or speakers. If your student has an extra role in the concert they will be given time to practice/prepare during the school day and will not need to bring any extra materials for their role. I will have all materials ready for them at the concert. Watch for more information coming soon!
3rd-grade students will be starting to learn the recorder in April and May! If you are interested in purchasing a soprano recorder for your student to bring to class here are some links: Amazon Music K8
If you do not wish to purchase a recorder/are unable to buy one then one will be provided for your student from the music room.
4th-grade students will begin learning the ukulele in April and May! Ukuleles are provided for all students in-class, but if you are interested in purchasing a ukulele for your student to own I have provided some links below. This is not required, just for added fun. Music K8 Amazon Amazon
CHARLES CITY YOUTH BASEBALL REGISTRATION
Charles City Youth Baseball Registration for the 2023 season is now open!!! We want to get a jump start on registration this season in order to build a better practice and game schedule.
Click on the link below to register
City League Baseball Registration
The deadline to register is Sunday, March 26th.